Travel Agents, Flights, and Package Holidays to Grenada
XL Airlines, Virgin, and British Airways all have flights to and from Grenada, all from London Gatwick, and all just once a week. You can book online with all of them:
We are flying with XL Airlines, leaving on Wednesday 25th March 2009, and returning on Wednesday 8th April 2009.
For our teacher friends and family, we were hoping to book flights to coincide perfectly with the school holidays (most schools break up on Friday 3rd April 2009 and return on Monday 20th April 2009). Unfortunately we discovered that the prices of both flights and packages went up significantly for this fortnight, and we also discovered that the UK flights to Grenada are all mid-week.
We've narrowed the date of the wedding ceremony itself down to Friday 3rd, Saturday 4th, Sunday 5th, or Monday 6th April 2009. Because the main UK flights to Grenada are all mid-week, with any one of these dates we can be sure that those guests that come for just the second week (1st April to 8th April with XL) would be able to make the ceremony, whether they fly XL, BA, or Virgin.
If you are a teacher, unfortunately we can't think of any sensible way that you'd be able to make our wedding without taking a couple of days off at the end of term. If you took the Virgin flight from Gatwick to Grenada on Thursday 2nd April 2009, you'd only need to take two days off work, or three days off work if you took the cheaper XL flight on Wednesday 1st April. As non-teachers, we've no idea how feasible this might be, and we'll completely understand if it's a no can do. Although we would be most disappointed!
If you're not a teacher, we suggest that you think about coming for the full fortnight - because of the price hike just before Easter, it's likely that a full fortnight would cost little more than a single week. In fact, many of the package deals cost less for the fortnight - crazy indeed! Plus of course you'd get twice as much time to enjoy the beautiful island, the barbecues, and the Caribbean rum punch :) :)
Just Grenada - holidays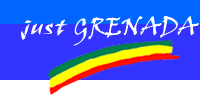 Just Grenada are a specialist travel agent who only deal with holidays to Grenada. We've booked our flights and accommodation through them. They can book flights with XL, Virgin or BA, and they are experts on Grenada and know all the resorts and villas.
One of the best things about Just Grenada is that they can arrange flights-plus-accommodation packages for many of the smaller places that aren't offered by the big operators like XL. If you fancy renting a villa, for example, you can book it all, flights included, through Just Grenada, and they'll supply you with airport transfers and make sure the villa is ready for you when you arrive etc.
They also know about our wedding, so, if you contact them and say that you're coming for our wedding, they should be able to help you find a good flight/package.
A few points to note about Just Grenada:
They don't seem that clued up on the really cheap accommodation, so if you're on a tight budget, you might find that you'll be better off booking a flight and looking for cheap accommodation separately (see our accommodation page if you haven't already).
You'll probably find that they're not as competive as XL on packages to the big hotels like the Grenadian by Rex.
Like we've said, however, they're great for organizing flights-plus-accommodation packages to smaller destinations such as the beautiful Coral Cove Cottages that we recommend on our accommodation page. You may well save money by buying your flights straight from XL and booking your accommodation separately, but going through Just Grenada does bring convenience, airport transfers, guarantees etc.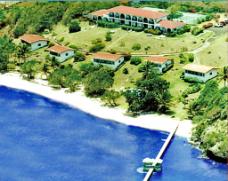 You can call Just Grenada on 01373 814214 or visit their website at www.justgrenada.com. Our contact at Just Grenada is Mandy Burten - she's been very helpful to us.
XL - Holidays and Flights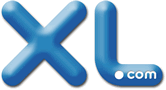 XL.com seem to be the most reasonably priced of the airlines that fly to Grenada. You can book just flights with them (if you want to arrange your own accommodation), but they also do package holidays to a few of Grenada's hotels.
XL's Grenada flights are all on Wednesdays. At the time of writing (23 July 2008), XL's flights cost:
£510 for 2 weeks (25th March - 8th April)
£630 for 1 week (1st April - 8th April)
The current XL flight prices are pretty competitive, so don't delay in booking if you're concerned that they might rise (which they may well do). The costs of packages through XL and Just Grenada are all affected by XL's flight prices. There's also the concern that the once-a-week XL flights might fill up!
Speaking of XL packages: they look to us like a great option if you're looking for an all-inclusive flights-plus-hotel-style package holiday. At the moment (23 July 2008), two adults sharing can get a fortnight package holiday staying half-board in the Grenadian by Rex hotel for £930.10 each. It's probably not as cheap as getting the flights and a cheap guesthouse/apartment, but it's pretty good considering the fact that it's a good hotel, and it's all inclusive. Visit XL's website to check the latest flight prices and packages, and to book online.
Virgin - Flights and Packages

Virgin Atlantic fly to Grenada and back, from Gatwick, on Thursdays. So far we've noticed them to be more expensive than XL - at the time of writing, 23rd July 2008, their flights cost:
£648.40 for 2 weeks (26th March - 9th April)
£910.40 for 1 week (2nd April - 9th April)
If you're looking for a package holiday to a hotel, it's worth checking out Virgin Holidays as well as XL. You get the same flights that you'd get through Virgin Atlantic, but with a hotel stay thrown into the (typically more expensive) deal. Their packages tend to be more expensive than XL's, but you might find that they offer some hotels you can't get through XL.
British Airways - Flights
British Airways
fly from Gatwick to Grenada and back on Tuesdays, via Antigua. At the time of writing (23 July 2008), their flights cost:
£731.50 for 2 weeks (24th March - 7th April)
£731.50 for 1 week (31st March - 7th April)
If you're shopping for the cheapest flights, it's worth checking both BA and Virgin's flight prices before booking through XL - they could change at any time.
What to do next?
We really hope you'd like to join us for our Caribbean wedding, but we'll understand completely if you'd rather not. We'd hate for you to feel obliged to take a holiday that doesn't appeal to you!
But if you do want to come (hooray!), you might be wondering what to do next.
If you know who you want to stay with (e.g. partner/family), and whether you want to stay in a villa, a hotel, a cottage, or a guesthouse, then hopefully we've given you all the information that you need to book your flights and accommodation. The advice that follows is more for those that want to come but aren't so sure about the rest...
One potential issue is that most of the accommodation options work out to be pretty expensive unless you're sharing... The hotel package holidays tend to charge a hefty single supplement, and the per-person cost of a villa or cottage is typically a lot cheaper if you fill most or all of the rooms.
If you want to share a cottage or a villa, but you're not yet sure about who with, we'd suggest that you start by booking your flights. The flight prices could go up at any time, and, since there are only three flights a week from the UK, one or more of them could easily fill up. So book your seat on the cheapest flight while you can!
The exception to this would be if you're particularly keen to stay in a large hotel such as the Grenadian by Rex. In this case you'll probably be best off booking one of the packages offered by XL or Virgin - unless you're happy paying the big single supplement, you'll need to work out who you're sharing a room with first.
Once you've booked your flights we can move onto the next issue: figuring out where to stay, and who to stay there with. Give us a shout if you're a bit stuck - we should be able to help.
Although we're a little concerned that the flights might sell out, it seems exceedingly unlikely that all the accommodation on the island would sell out... so it should be safe to book your flights now and sort out the accommodation later.
And do let us know if you've got any questions etc. - we'll do our very best to help :) :)