Things to Do in Grenada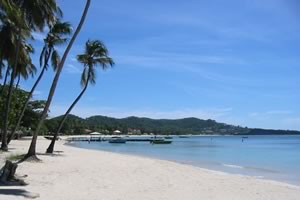 You might want to spend most of your holiday relaxing on one of Grenada's gorgeous beaches - and who could blame you!
Grand Anse beach is Grenada's number one tourist beach, and it is 2 miles of white sand, palm trees, and sheltered azure waters. It also has plenty of shops and restaurants.
There are also many more secluded beaches to relax on - take a look at Grenada Explorer for some ideas. Or of course you are always welcome to come and hang out with us at the Nutmeg :) :)
If you're looking to do a bit more than just lying under a palm tree sipping cocktails, there are plenty of other things to do in Grenada...
Snorkeling and scuba diving
The clear warm waters of the Caribbean are ideal for scuba diving and snorkeling, and Grenada's waters are no exception.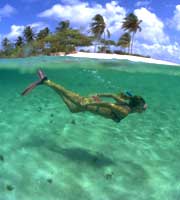 You can snorkel from the beach - the beach by the Grenadian by Rex hotel is apparently one of the best places, and the Coral Cove cottages (which are practically next to the Nutmeg Bay Villa) have a jetty that goes right out from their beach to a coral reef.

For scuba diving there are several dive schools in the Grand Anse beach area that offer PADI courses (internationally recognized dive training from certified instructors). If you are keen on scuba diving in Grenada, and you haven't done it before, you might want to think about taking a few lessons in a UK swimming pool to cut down on the training that you'll need to do in Grenada itself.
You can dive around Grenada's reefs, or you can take a boat trip out to dive around shipwrecks in the deeper Caribbean waters. There are various websites with more information - have a look at Aquanauts Grenada (which also has snorkeling information) and Dive Grenada, or check out the diving information and links at Grenada Explorer.
Golf
The Grenada Golf and Country Club near Grand Anse beach has 9 supposedly-challenging holes*, and superb views of the Caribbean and Atlantic Seas.
* Sorry, we're pretty clueless when it comes to golf, so "9 supposedly-challenging holes" is about the best description we've been able to come up with... But the picture below certainly looks pretty!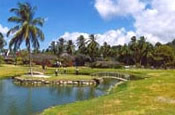 If you're particularly keen on golf, you might like to stay in the Silent Dove villa that backs onto the golf course. It's not as luxurious-looking as some of the other villas on the island, but it does come with unlimited free use of the golf course.
Sailing
There are at least a couple of companies on Grenada that allow you to charter a crewed yacht or bareboat for a day, or for longer if you like. The sailing is supposedly particularly good around Grenada and the nearby islands.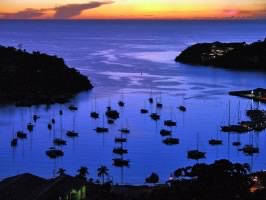 There are also a number of local operators that run regular organized day trips.
You can find a little more information and links to a few relevant companies here.
Hiking (or more modest walking)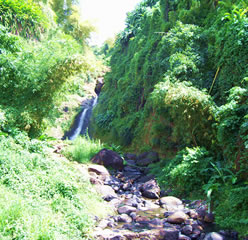 Much of the interior of Grenada is covered in rainforest, and there are lots of places to go walking in it. You don't need to worry about the wildlife as there are no poisonous snakes or spiders on Grenada :)
The island has a nature reserve called Grand Etang, with a lake that fills the crater of one of the island's extinct volcanos. Grand Etang is a popular area for walking and hiking, and it has many trails around the mountains, the colourful rainforest, and the stunning waterfalls. These trails range from an easy 15 minute walk, to a 6 hour hike.
At 2,370 ft (720 m), it's not the tallest mountain on the island, but Mt. Qua Qua deserves a mention for it's name if nothing else!
Spices and Rum
Grenada is famous for its spices, particularly nutmeg. There are several spice plantations on the island that you can visit. You could also take a tour of a rum distillery, and the island has its very own brand of chocolate, with a factory that is open to the public.
Flowers and gardens
It's probably no surprise to hear that the Caribbean has many fabulous tropical flowers.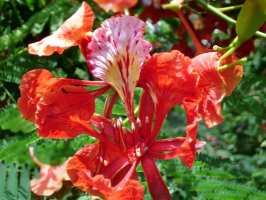 As well as admiring the flowers we should hopefully have at the wedding :) there are a number of maintained gardens that you can visit, such the two near St George's that are described here.
Guided tours and other ways to get around
For a variety of guided tours around Grenada, take a look at Grenada Sunsation, Grenada Tours, and Adventure Tours Grenada.
Alternatively, it looks like it should be pretty easy to get to many places using public transport - caribya! has a little information on the buses in Grenada.
We're planning to rent a car, although this isn't something we've researched much yet. Bikes and mopeds look like another readily available option.
Grenada Explorer has some information on taxis, water taxis, and car rental.
If you're liking the sound of Grenada, check out our pages on places to stay, and flights and packages - we're rather hoping you'll join us for our wedding holiday!