We're Getting Married in the Caribbean!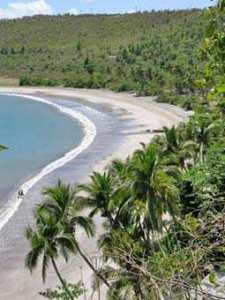 See the picture up there on the left? That's us, relaxing on a beach on the beautiful Caribbean island of Grenada - the island where we're soon to get married.
Well OK, there's a little PhotoShop trickery involved, as we haven't actually been there yet... but we will be there in the not too distant future :) :)
We'll be flying out to the island on Wednesday 25th March 2009, and we'll be staying in the really rather spectacular-looking Nutmeg Bay Villa.
We're rather hoping that you'll fancy coming along to join us for a week or two in the tropics. (That's assuming you're not a stranger who's stumbled across this site by accident...)
So, why are we getting married in Grenada?
Well this is the thing: we don't see nearly enough of our friends and family. The occasional short meet-up is not sufficient!
With a one-day wedding in the UK, we'd be unlikely to see any one of you for more than a few minutes...
But in Grenada we'll have plenty of time to catch up and enjoy ourselves:
We've rented a humungous villa with a private pool - it'll be great for hanging out on a lazy day, and Martin's brother Isaac will be chained to the barbecue in the evenings...
If you're feeling adventurous, we can head out for a rainforest hike or a scuba dive, or perhaps take a trip on a fishing boat...
And then there's the wedding itself, when we can be sure that everyone will come together.
Of course, you don't have to spend every second with us... it's your holiday too, after all!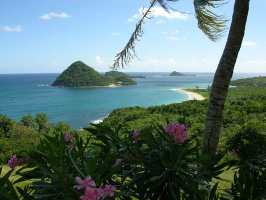 Grenada looks like a truly fantastic island - one of the last in the Caribbean that isn't overrun with tourists. We are very excited, and we'd be thrilled if you could share this holiday with us!
The details
We'll be on the island for 2 weeks, between Wed 25th March and Wed 8th April 2009. We'll be staying in the Nutmeg Bay Villa - our holiday HQ, and a great place for us all to get together for barbecues, drinks, and beach/pool time :)
We haven't fixed the exact date for the wedding ceremony itself, but we're going to make sure it's between the 3rd and the 6th of April 2009. So if you can only come for one week, the second one is preferable.
We've stuffed this website full of information about the island of Grenada, our holiday HQ, flights and packages, and accommodation options, and we'll be updating it as time goes on.
Grenada is a tranquil, unspoilt island that doesn't see excessive numbers of tourists, and the UK airlines that fly there only do so once a week. We're a little concerned that the flights might fill up, so please don't delay on booking if Grenada 2009 sounds like a holiday you don't want to miss...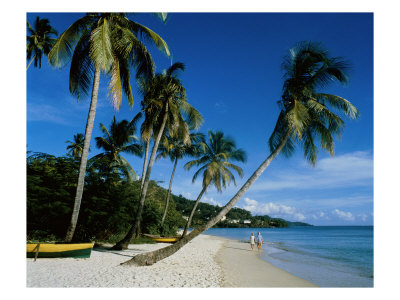 Do let us know if you've got any questions, if you want us to help you find group accommodation, or if you just want to say hi... And definitely please do let us know if you've booked. You can email Laura on laura.mcloughlin@gmail.com, and Martin on martin.bromley@bizeesoftware.com. Although, being friend or family, you probably know that already :)
And do make sure to take a look around the rest of this website: we've put together a load of information about Grenada, things to do there, places to stay, and travel agents, flights, and packages.