Where to Stay
Most of the places to stay in Grenada are located on the South West corner of the island. Click on the map below to see some key locations labelled: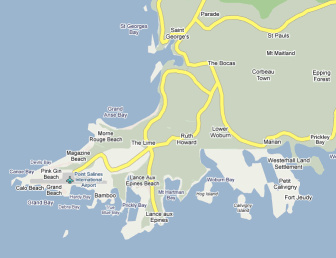 The South West corner has the added advantage of being near to the Nutmeg - the villa that we're staying in, and that we'll be hoping you'll join us at for barbecues and pool time :)
Anyway, we've been doing our research - and we've found a range of accommodation options to suit different budgets and preferences:
Budget Accommodation
We found a 2007 article in the Telegraph with the following quote: "The general perception of the Caribbean is that it is an expensive place to go on holiday - a tropical playground for the rich and the famous. That image, which arises from the media's concentration on the smartest hotels, is a misleading one. There are plenty of lovely, reasonably priced places to stay - they are just harder to find out about."
Anyway, the good news is that Grenada does seem to have a pretty reasonable selection of budget accommodation.

Grenada Explorer has a long list of price-categorized accommodation options, which include several $20-$50 apartments and guesthouses around St George's, which is only a short bus or taxi journey away from Grand Anse beach (the main tourist spot), and Lance aux Epines (the peninsula where we're staying).
Just look for the options with only one '$' next to them - they're the cheaper ones. But don't book one of the ones in Carriacou unless you're well aware that it's a different Grenadian island to the one we're on! (The country of Grenada is made up of Grenada, Carriacou, and Petit Martinique... we'll be on the main island of Grenada...)
If you find any other good places to look for cheap accommodation in Grenada, please let us know so we can add them here!
Coral Cove Cottages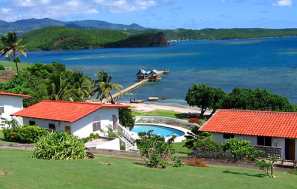 If we were guests at our wedding, we think we'd probably choose to stay at the Coral Cove Cottages. They're a group of self-catering cottages and apartments on the Lance aux Epines peninsula, just a short walk from the Nutmeg Bay villa :)
They're a pretty big step up from the budget accommodation above, but they're not crazy expensive, and they're in a fantastic spot by the beach. Plus, and we might just have mentioned this already, they're very close indeed to the Nutmeg!
The Coral Cove cottages have an excellent set of reviews on Trip Advisor - nobody seems to be able to find fault with them.
If you like the look of them, it might be an idea to get in contact with Just Grenada to talk to them about booking a Coral Cove cottage together with flights. (We talk about Just Grenada on our page about travel agents, flights, and packages.)
Grenadian By Rex
The Grenadian By Rex is a popular tourist hotel with around 200 rooms. It's been recommended to us as a good place to stay, for those that like large(ish) hotels. It has excellent reviews on Trip Advisor, and XL and Virgin both do packages that stay there (see our page on packages).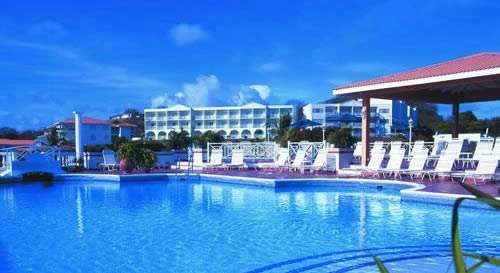 Apparently the beach next to the Grenadian is one of the best places for snorkeling right from the shore (i.e. without taking a boat out).
Spice Isle Villas (and villa rental in general)
We've done quite a lot of research into Grenada's villas as we wanted to be sure to get a good one to use as our holiday HQ... Consequently we have quite a lot to say about villa rental!

If you like the idea of renting a private villa, then Spice Isle Villas is the website to visit. They are a villa-rental company based in Grenada, and their website has lots of pictures and information about the villas on the island. They have particularly good maps showing where each villa is located.
There are some seriously tasty looking villas available to rent, in a range of sizes. Provided you book as a group that can fill the bedrooms (e.g. 4 people in a 2-double-bedroomed villa), the cost per person can work out fairly reasonably, so long as you don't pick one of the crazy-expensive villas (of which there are several).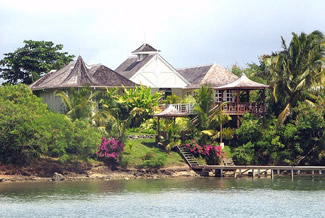 The Villa Ixora looks like a great option to us - it's relatively affordable (for such an oh-so-appealing villa), and it's very near to the Nutmeg too :)
(We always smile when we find somewhere good within a stone's throw of the Nutmeg!)
Different ways to rent a villa
Anyway, it seems that most of the villas available to rent are privately owned - for example, the Nutmeg is owned by a gentleman in the UK. For most of the villas, there are quite a few ways to rent them:
You can book through Spice Isle Villas - they'll throw in airport transfers and they'll make sure that the villa is all ready for your arrival etc. We've heard nothing but good words about Spice Isle Villas from our wedding planner and from various comments around the web, but there are other villa-rental companies around. Most of them have a similar selection of villas - Spice Isle seems to have the most, but if you can't find anything appropriate at Spice Isle villas, you might get lucky if you search around elsewhere.
Many of the villas actually have their own websites through which you can book direct with the owner. This might work out a bit cheaper than going through a villa rental firm, but it sounds a bit more risky to us: with many of the owners living abroad, there may be nobody around to help out if something goes wrong with the villa, or if something is missing when you arrive.
Most, if not all, of the villas offered by Spice Isle are also available as packages through Just Grenada. We booked the Nutmeg villa and our flights together through Just Grenada.
The Nutmeg actually has an arrangement whereby you can rent just some of the rooms in the villa: they leave the other rooms locked, and you don't have to pay to rent the entire place. Other villas may well have similar options.
Villa-related things to look out for...
Two things to look out for if villa rental sounds appealing to you:
The majority of the villas that we've seen are on the Lance aux Epines peninsula where we're staying, but there's also the odd villa on the other peninsulas at the south of the island, such as Westerhall Point. Lance aux Epines has good road access, but apparently the roads out to some of the other peninsulas are not so great. For this reason, and the simple fact that they're further away from our Lance aux Epines HQ, we'd suggest avoiding the other peninsulas if possible, unless of course you want to keep a safe distance for most of the time!
Many of the villas come with a maid, but it seems that some of the villas actually come with live-in owners. For example, the Trip Advisor reviews for the lovely-looking Reef View Pavilions mentioned that the owners lived in an apartment on the grounds. Having owners on hand may have its advantages, but it also means a little less privacy, so it's worth checking up on with Spice Isle, Just Grenada, or whoever you book with.
Caribbean Breeze - a relatively cheap option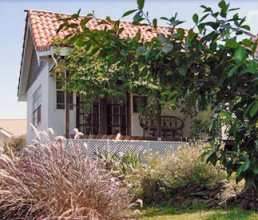 While we were researching our own accommodation, we stumbled across the Caribbean Breeze. There's a villa that you can rent, and there are a number of one and two bedroom apartments. It's run by a couple who live there, and we've found the owner (Sue) to be very helpful and friendly.
They have a couple of big dogs (real dogs, not Tim Westwood big dogs) - the reviews on Trip Advisor say that they're very friendly dogs, and most of the reviewers seemed to be very pleased that they were there... But if you don't like dogs, this would be a negative point for the Caribbean Breeze as an accommodation option.
Anyway, the location of the Caribbean Breeze is great for the golf course (it's right next to the seventh hole), and it's 5 or 10 minutes walk to Grand Anse beach. The prices are very reasonable - all in all the Caribbean Breeze looks like a pretty good option if you're looking for something fairly cheap.
Much more in the Grand Anse beach area
There are lots of hotels and resorts on Grand Anse beach, along with lots of shops and restaurants.
If this sounds like the sort of place you'd like to stay, a couple of places worth looking at are the Blue Horizons Resort which is made up of self-catering cottages in gardens, and the Allamanda Hotel which is supposedly popular with divers.
Cheaper accommodation is available in the guesthouses etc. described above, but if you're looking for a package to a modern hotel, the Allamanda is probably the cheapest option that we've seen.
Luxury hotels
Grenada's luxury hotels include the Spice Island Resort and the Calabash Hotel. They both look amazing, but they have a price tag to match!
Do check out our page on travel agents, flights, and packages if you haven't done so already.